Global Citizens Model United Nations 2024
GCMUN is an international Model UN Conference held at the Sheraton New York Times Square Hotel. GCMUN offers a unique MUN experience with a focus on student engagement and realistic committee simulations, creating an interactive environment that encourages active participation and meaningful discussions.
Core & Mission
GCMUN strives to deliver the highest educational experience in a fun and stimulating enviroment. Participants should expect great current topics and fierce debate sessions.
Cultural Exchange
Our past editions welcomed more than 3000 participants from over 100 different school of 10 different regions of the world, making it a true melting pot of cultures and diversity.
Soft Skills & Talent Accelerator
Public Speaking, Teamwork, Problem Solving, Time Management, Adaptability, Creativity and Leadership are just some of the skills that participants will perfect attending GCMUN: fundamental skills to tackle an ever-changing society and different work environments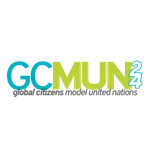 GCMUN 2024
New York, United States of America