WIMUN is the most accurate simulation of the United Nations with seminars taught by UN officials, briefings by UN agencies, and Plenary Sessions at the UN Headquarters for our Flagship New York conference.
The Conference Fee includes UN4MUN training, accommodation, meals, social events (including a guided tour of the Taj Mahal), and more! *Please note: Faculty Advisor fee is waived when the teacher is accompanying a delegation of 10 or more students, otherwise an observer fee will be charged. Please see our conference website for further details.
By linking previous editions of your conference you show people how well they were rated!
Security Council I – Youth
Security Council II – Syria
General Assembly First Committee (University Only)
General Assembly Second Committee
General Assembly Third Committee
General Assembly Fourth Committee
Topic
Youth, Peace, and Security
Topic
Road Map for Peace Process in Syria
Topic
United Action Towards the Total Elimination of Nuclear Weapons
Topic
Protection of Global Climate for Present and Future Generations of Humankind
Topic
Comprehensive Review of the Whole Question of Peacekeeping Operations in All their Aspects
Chair

Sylvania Jeshuani
Chair

Paratmika Padhya
Chair

Nikhil Reddy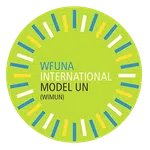 WIMUN 2017
Grand Hyatt New York, United States