WELCOME!
​​URJCmun is the Model United Nations of Rey Juan Carlos University. In a MUN, delegates play the role of representing one country or organization that belongs to the United Nations. Delegates debate in the different committees the chosen topics with the objective of reaching resolutions in order to solve the issues that are addressed.

URJCmun rely on its own Press and Staff teams which are made up by students of our university. Moreover, it is the biggest MUN of Spain with more than 750 delegates and one of the biggest at university level in Europe.

If you are interested in coming to URJCmun as an international delegation, you will find all the information here. In order to know more about our Model of United Nations, do not hesitate to check all our social media!
¡BIENVENIDOS!
URJCmun es el Modelo de Naciones Unidas de la Universidad Rey Juan Carlos. En un MUN, los delegados toman el rol de representar un país o una organización representada en las Naciones Unidas. Los delegados debaten en los distintos comités los temas seleccionados con el objetivo de alcanzar resoluciones para intentar solucionar los problemas tratados.

URJCmun cuenta con equipo de prensa y de staff propio formado por alumnos de nuestra universidad. Además, es el MUN más grande de toda España con más de 750 delegados y uno de los más grandes a nivel universitario en Europa.

Para conocer más sobre nuestro Modelo de Naciones Unidas, no dudes en visitar la web About us, nuestro Flickr, nuestro canal de Youtube y todas nuestras redes sociales.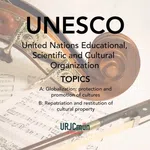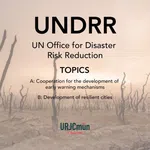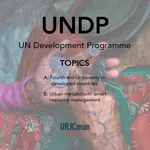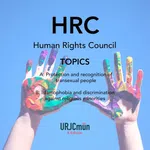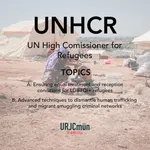 UNESCO
UNDRR
UNDP
HRC
UNHCR
Topics
Globalization: protection and promotion of cultures
Repatrication and restitution of cultural property
Topics
Cooperation for the development of early warning mechanisms
Development of resilient cities
Topics
Fourth world: poverty in developed countries
Urban metabolism: smart resource management
Topics
Protection and recognition of transexual people
Islamophobia and discrimination against religious minorities
Topics
Ensuring equal treatment and reception conditions for LGBTQI+ refugees
Advanced techniques to dismantle human trafficking and migrant smuggling criminal networks