The future we seek: Resilience and Adaptation
The Universidad Carlos III Model United Nations, also known as UC3MUN, is the most representative project of the Association for the United Nations and International Law (ANUDI), integrated in the Universidad Carlos III de Madrid ecosystem.
It consists in a simulation, organised in March every year, of the procedures and debates taking place in the United Nations nowadays. We have lately expanded this concept, including committees from EU and other international institutions. There, delegates have an opportunity to demonstrate their rhetoric and negotiating ability by representing the position of a country in a problem-resolution process concerning some of the hottest topics in the international arena.
Our committees are classified according to the experience (beginner, intermediate and advanced) and language (English, Spanish, French) of participants.
UC3MUN is open to any college student who wants to walk in the shoes of a diplomat for a few days; furthermore, each edition we have the presence of prestigious professionals, within their field of expertise, who offer us a series of introductory lectures designed to orient participants about the topics they address in their respective committees. In addition, attendees can learn first-hand and exchange different points of view with representatives of the diplomatic, business and institutional world.
Many issues, such as this year's committees and fee, will be determined in the very next few days. However, if you are interested, do not hesitate to contact us at uc3mun.apps@gmail.com!
Ratings
Partner Conferences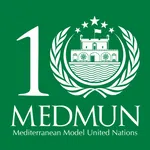 MEDMUN 2022
Menton, France