Dare to Make the Difference
OPOMUN is a Model United Nations conference where students (delegates) from all over gather to discuss issues of great importance to our world. Procedures follow the United Nations where we try to recreate its workings. Delegates will be divided into committees which discuss specialised issues according to their purpose. Here participants have the possibility to explore their country's position and defend their interests trying to balance them with common ones, those of an interconnected globalised world.
We have been organising this MUN for sixteen years, a time that allowed us to mature debate and conference quality. We aim at constructing memories, making a difference in participants' perception of current issues and broadening the power of negotiation – allowing them to later critically look at problems, evaluate and above all act on them.
MUNs are indeed a powerful tool to form a future generation of leaders and critical thinkers; people who will shape our future and redefine the paths we are taking. The world needs a challenged set of young people who will bring about change. With our conference increasing every year and with more and more international students, we have become a place where important contacts can be established, ideas shared and perceptions understood. Through this, we build a basis for understanding and diplomacy and thus a fair and balanced decision-making environment
Let's dare to make the difference together!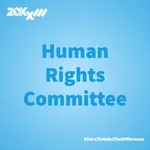 Human Rights Committee