Model United Nations (MUN) Conference: New York City (NYC) Edition
Welcome to the NYC MUN conference, a gathering of young leaders from around the world to debate and discuss some of the most pressing global issues facing humanity today. The NYC MUN conference is designed to provide participants with a unique opportunity to engage in the art of diplomacy, negotiation, and decision-making, as they represent various countries in United Nations committees.
Over the course of three days, participants will have the chance to engage in lively debates, exchange ideas, and work towards crafting comprehensive solutions to some of the most complex challenges facing the world today. From climate change and poverty to peacekeeping and human rights, the NYC MUN conference provides participants with an opportunity to broaden their understanding of global affairs, develop critical thinking skills, and enhance their public speaking and communication abilities. Participants will be assigned to committees based on their preferences and areas of interest. Committees will be moderated by experienced MUN trainers, who will provide guidance and support to help participants navigate the complexities of international diplomacy.
At the end of the conference, participants will have the opportunity to vote on the final resolutions and proposals crafted by each committee, and awards will be given to participants who demonstrate outstanding leadership, diplomacy, and negotiation skills.
We invite you to join us at the NYC MUN conference to become part of a global community of young leaders committed to creating a better world for all.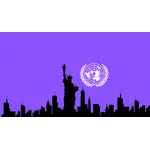 UNGA
Description
The Global Implications of Nuclear Weaponization and the Emergence of New Actors in the Arms Race is a broad topic that encompasses the history of nuclear weapons, the current state of nuclear arms co...
Read all
Topic
The Global Implications of Nuclear Weaponization and the Emergence of New Actors in the Arms Race