Shaping the Leaders of tomorrow
Middle School of Kifissia Model United Nations (MSKMUN)
MSKMUN has been established since 2018. Annualy, 300-400 international delegates participate.
The Conference takes place inside the premises of 1st Middle School of Kifissia, Levidou str., 42, 14563, Kifissia, Athens Greece.
For more information, you may visit our website https://www.mskmun.com/, our instagram page msk.mun and contact us via email at mailto:1mksmun.athens@gmail.com.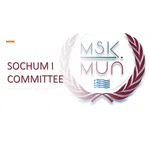 SOCHUM I
Fictional Crisis Committee
Description
SOCHUM I is a General Assembly Committee. The committee operates like the other General Assembly committees and the topics to be debated are slightly easier than those of the Intermediate level SOCHUM...
Read all
Description
The Fictional Committee is a committee in which delegates take the roll of fictional characters as heroes or as villains. Delegates do not have to write resolutions. During the committee session, cris...
Read all
Topics
Promotion and Protection of Human Rights on the Internet
Female access to education worldwide