DYDMUN features a highly diverse body of participants hailing from a range of different countries and cultural backgrounds resulting in wide range of perspectives and fruitful discussion.
The conference organizers have put forth a thoughtful and well balanced agenda, which covers a range of pressing global issues, from climate change to economic inclusion of refugees.
The intermediate committee - UNHCR will be participating in the Model UN Refugee Challenge! The beginner committee will be the COP'28 or UNCCC and will feature engaging discussions on new solutions.
By linking previous editions of your conference you show people how well they were rated!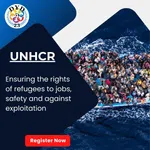 UNHCR (United Nations High Commissioner for Refugees)
Description
UNHCR - Ensuring the rights of refugees to jobs, safety and against exploitation. #ModelUNrefugeechallenge