University Students and High School Students
Chairs
Jun 14, 2023 - Jul 15, 2023
Delegates
Jun 14, 2023 - Aug 1, 2023
Head Delegates
Jun 14, 2023 - Aug 18, 2023
Faculty Advisor
Jun 14, 2023 - Aug 18, 2023
Observers
Jun 14, 2023 - Aug 1, 2023
Welcome to the maiden edition of Change Makers Model United Nations 2023.
Come and explore the power of youth along with the luxurious experience of dining in Yacht across Breathtaking Bosphorus Strait collaborating and engaging with some of the brightest minds in the world.
Witness and experience the brilliance of partnerships among the change makers at CMMUN 2023 in the presence of esteemed guest speakers such as Her Excellency Almas Jiwani, The President of UN WOMEN Canada among other renowned guests.
We are making sure that the maiden experience of CMMUN will not only leave you with an experience that you can never forget but serve you a conference with a purpose with our Five major committees discussing vital agendas.
Unleash your potential to break the barriers and empower the change you wish to see in the world.
For any queries, feel free to mail us at :
We await your presence!
Thankyou
CMMUN 2023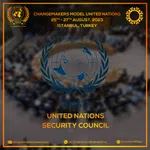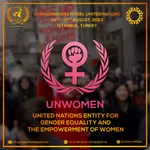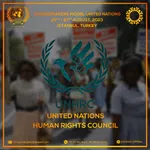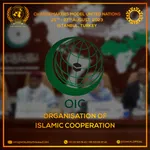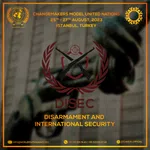 UNSC
UN WOMEN
UNHRC
OIC
DISEC
Description
Organisation of Islamic Cooperation
Description
The Disarmament and International Security Committee