Covenant International Model United Nations Conference is a diplomatic conference for young leaders across the world, simulating the activities of the United Nations. It is poised at galvanizing a critical mass of young people into taking tangible action to develop implementable solutions to cogent problems across the world through diplomacy and international cooperation.
Each Delegate represents a member-state of the United Nations. Delegate experience is not only limited to committee sessions, but it includes interactive events such as; Opportunity fair, sports festivals, diplomatic and cultural dinners and special interactive sessions.
Participation at CIMUN 2023 is open to: secondary and tertiary students, Graduates, Global Youth Leaders, Diplomats/Interns and Volunteers.
United Nations Security Council
Disarmament and Security Committee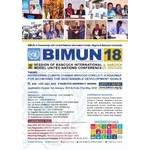 BUIMUN 2018
Ogun State, Nigeria