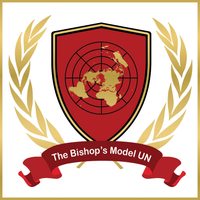 TBMUN 2019
The Bishop's Model United Nations
Pune

,

India

None

Feb 02

-

Feb 03, 2019

400 Delegates
---
The Bishop's Model United Nations Conference 2019 is the second edition of The Bishop's MUN Conferences. This conference was founded in 2017 by Sahil Nahar, an ex-Bishopite himself, to introduce the concept of Model United Nations to younger students in schools and colleges. The first edition of the conference was a huge success with a participation of over 220 coming in from various parts of our country: from Rameshwaram, Tamil Nadu in the South to Delhi in the North. Students also came in from Mumbai, Nashik, Aurangabad, Sangamner, Bangalore and Chennai.

---
Organizers
--- Security Council
Topics
Children and armed conflict. Disarmament and International Security Committee (DISEC)
Topics
Relationship between disarmament and development. Legal Committee
Topics
The scope and application of the principle of universal jurisdiction. Economic and Social Council (ECOSOC)
Topics
Science, technology and innovation for development. International Atomic Energy Agency(IAEA)
Topics
Strengthening the Agency's activities related to nuclear science, technology and applications. Committee for Programme and Coordination (CPC)
Topics
Results based management in the United Nations development system: analysis of progress and policy effectiveness. United Nations Population Fund (UNFPA)
Topics
United Nations Population Fund (UNFPA) United Nations Human Rights Council (UNHRC)
Topics
The negative impact of corruption on the enjoyment of human rights. World Health Organization (WHO)
Topics
Disease management in West Africa: a multidisciplinary approach with special reference to the DRC Ebola outbreak. United Nations High Commissioner for Refugees (UNHCR)
Topics
Refugee migration to Europe: a comprehensive review.