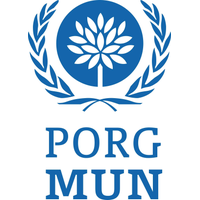 PORGMUN 2017
PORG Model United Nations
Prague

,

Czechia

None

Apr 06

-

Apr 09, 2017

216 Delegates

€30.00 Fee
Delegate Applications

01 Dec 2016 - 31 Mar 2017

Delegation Applications

01 Dec 2016 - 31 Mar 2017
---
PORGMUN 2017
PORGMUN is a four-day conference simulating the real United Nations, its structure and modus operandi. This year's conference will be hosting eleven committees, including the Security Council, the African Union and the International Court of Justice, each with its own topics and themes. As a delegate, you will represent your country's stance and opinions in the debates.
---
Rating
4.03 out of 5
Top Rated MUN
This is a Top Rated series of conferences - it has consistently been rated with 4 or more stars!
---
Organizers
--- World Health Organisation (WHO)
Topics
Creating universal morality guidelines for research in the field of genetic modification of human embryos.
Assuring womens' health by globally promoting safe abortion procedures in cases of involuntary pregnancies arising from sexual violence.
Chairs
Anastasia Rybalchenko
Verča Holubová Legal Committee (LC)
Topics
R2P: Responsibility to Protect – the Past and the Future of International Efforts to Prevent Mass Atrocities.
Overcoming the Deadlock in Defining and Combating International Terrorism.
Chairs
Martin Bláha
Barbora Müllerová Sustainable Development Committee (SDC)
Topics
Sustainable agricultural and agronomic innovation for food self-sufficiency of LDCs.
Personal transportation as a significant contributor to climate change: the strive for more affordable and efficient alternatives.
Chairs
Josef Bratršovský
Františka Tranová Human Rights Council (HRC)
Topics
Debating on freedom of religious expression in nations affected by terror attacks and/or threats.
Resolving cultural and logistical obstacles to contraceptives: promoting social and economic rights of women.
Chairs
Markéta Lišková
Daniel Devereaux Special Political and Decolonization Committee (SPDC)
Topics
Kurdistan: solving the issue of the largest nation without a sovereign territory.
The future of refugees: the question of assimilation versus repatriation.
Chairs
Robin Zenker`
Mia Letić Historical Security Council (HSC)
Topics
Cuban Missile Crisis: mediating a sustainable and mutually beneficial approach to protect peace and security
Chairs
Natka Vyhnalova
Sebastian Štros African Union (AU)
Topics
Strengthening African states by regionally shifting towards an export-based industrial economy, focusing specifically on disadvantaged land-locked states.
Political crisis in Burundi: establishing a redistribution system for regional migrants and providing them with a social safety net.
Chairs
Lucie Capkova
Bruce Bybee Special Conference on Energetics (SCE)
Topics
Carbon offsetting and other innovative methods of reducing emissions while staying competitive.
Resource entitlement: defining the minimum environmental and financial conditions of fossil fuel exploitation by transnational corporations.
Chairs
Simon Olmer
Maxmilián Sup Drugs and Crime Committee (DCC)
Topics
Reevaluating the war on drugs and updating international legislation on illegal substances.
Transparent ownership one year after the Panama papers.
Chairs
Daniella Ofer
Marek Gerle International Court of Justice (ICJ)
Topics
Three cases from different branches of international law (members of the court will take on different roles for each case)
Chairs
Miroslav Crha
Petra Vávrová