MUNWeb 2022
Webster Leiden Campus Model United Nations
Online

Apr 22

-

Apr 24, 2022

100 Delegates

€14.00 Fee
Delegate Applications

01 Dec 2021 - 10 Apr 2022

Chair Applications

01 Dec 2021 - 15 Dec 2021
---
Webster Leiden Campus invites you to join us at MUNWeb '22 - hosted by the Webster Leiden Campus Model United Nations Association.
The conference will address prominent, global issues covering a multitude of topics in order to spark intense debates and creative solutions.
Attention:
In applying to this conference, a fee is required for delegates.
The total fee is 16 euros - payable through registration at mymun.com using your preferred payment method. If you have any issues with payment, please contact:
munweb@webster.nl
Delegates are required to attend all assigned committee sessions.
If you do not have delegate experience, MUNWeb '22 provides 2 sessions of new delegate training – delegates without experience are required to attend before the conference.
Applications are open worldwide. All times listed are Central European Summer Time (CEST). Please keep this timeframe in mind when applying to the conference.


To be part of our Press Team, please contact: munweb@webster.nl
We hope to see you online at MUNWeb '22!
---
Rating
4.32 out of 5
Top Rated MUN
This is a Top Rated series of conferences - it has consistently been rated with 4 or more stars!
---
Organizers
---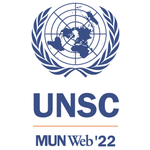 Security Council
Topics
Taliban Crisis in Afghanistan The Taliban are a major terrorist organization which governed Afghanistan until 2001 after being toppled by a U.S. led coalition. However, the group has taken back control of Afghanistan in 2021; reinstating previous bans to prevent women from attending work or school, censoring the media, and other harsh measures. The Taliban are an organization dating to the 1990s and have been viewed on the global stage ever since--fighting against the U.S.-backed government in Afghanistan. With their recent re-entry into power, delegates have access to real-world news updates to focus their debates on how to deal with the global security threat of the Taliban regaining control of Afghanistan. Escalation in the Sudan-South Sudan Border Crisis The situation in Sudan, and its breakaway South Sudan, has been a call-to-arms for nearly a decade. Following the Heglig Crisis and the ensuing war over oil-rich border land, the situation at the border has created a political and humanitarian crisis in the Northeastern African region. Refugees, asylum seekers, and stranded nationals are unable to return to their homelands and there is no benefit to either side with the present status quo. With the military coup in Sudan last October, the border issue came back into major focus--the UNIFSA mandates are due for renewal, attracting international attention from the U.S. and China. Delegates will deliberate on the border issue and discuss measures to restore stability to the region through humanitarian and geopolitical channels--working within the efforts of the pre-established UNIFSA (and JBVMM).
Chairs
Ruya Caglar
Anoushka Anand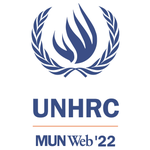 Human Rights Council - UNHRC
Topics
Violence Against Women & Women Refugees in Colombia and Venezuela Since 2018, Latin America has faced one of the most significant displacement crises in the world. More than 5.9 million people have fled Venezuela as refugees and migrants amid political and economic turmoil. More than 80 percent have fled to neighboring countries and the Caribbean, with approximately 1.7 million arriving in Colombia. More than one-half of the Venezuelan populations in Colombia have no official status--lacking access to aid, assistance, and protection--making them more vulnerable to sexual exploitation, trafficking, and violence. Violence against women is increasing with many reporting experiences of abuse and sexual exploitation; femicide is a leading cause of death for Venezuelan women and girls residing in Colombia. The delegates of the Human Rights Council will focus on addressing immediate needs and finding solutions which include the protection of rights for Venezuelan women refugees and women migrants. Freedom of Speech & Imprisonment of Press in Russia, Turkey, and Mexico The Russian government controls all national television networks, many radio and print outlets, and most media advertising within the country. Since 2017, Russia has added to an official government list of independent Russian journalists and media outlets labeled as 'foreign agents'. As of 2019, Turkey is considered the world's worst when it comes to imprisoning journalists. Those associated with a free press and media--such as writers, artists, activists, political figures, leaders, and citizens--face high levels of persecution if accused of criticizing the government. Mexico is one of the world's most dangerous places for journalists. President Obrador continuously stigmatizes the press--labelling journalists 'adversaries' based on their political alignment. Delegates will use their positions in the Human Right Council to propose solutions to ensure the safety and security of journalists and media outlets in Russia, Turkey, and Mexico and draft accountability measures regarding violations of free speech and press in these States.
Chairs
Jorida Ganaj
Carolyn Cain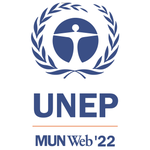 Environment Programme - UNEP
Topics
Ocean Plastic Pollution & Island States The increase of marine plastic pollution poses risks not only to marine life but has disastrous implications on the economy and health of human beings. And alongside the polluted coastlines of the mainland, it is the island regions--smaller and more isolated--which suffer from an economic dependency on tourism. The solutions required must go beyond waste management and consider the whole lifecycle of plastics within these sensitive environments. Delegates will debate the efficacy of the targets of Goals 13 and 14 of the Sustainable Development Goals (SDGs) to reach environmental and economic resolutions which significantly reduce marine plastic pollution globally, with an emphasis on reducing the pollution from small island developing States. Deforestation in South America & Southeast Asia Forests are the most biologically diverse of all land-based ecosystems--home to more than 80 percent of all terrestrial species of animals, plants, and insect life. UNSTATS reports from 2020 indicate over 100 million hectares of forest have been lost globally in the past two decades. Deforestation will continue at an alarming pace in large territories such as South America and Southeast Asia without sustainable forest and biodiversity management. Delegates will address deforestation in these regions by proposing working solutions to increase the global percentage of terrestrial forests covered by national, and regional protective legislation.
Chairs
Anne-Marie Barnes
Srilakshmi Chidambaram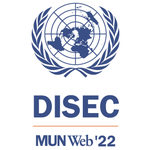 Disarmament & International Security Committee - DISEC
Topics
Review of the Outer Space Treaty The Outer Space Treaty was signed in 1967 as an early offer of goodwill primarily between the United States and the former U.S.S.R., and has since been signed by every UN-member state. The objective of the treaty is to protect humanity's last frontier from weaponization and territorial control... then and now. The treaty stands not only to prevent war, but also the mass commercialization and incentivization of outer space which could lead to war. However, as the privatization of the space industry emerges alongside the development of military presences such as the U.S. Space Force, the attention of DISEC delegates is required to reassess the Outer Space Treaty and its terms on the commercial and military use of outer space. Nuclear Crisis on the Korean Peninsula North Korea has been deemed a pariah state by many nations in recent years for their hostile and anti-progressive approach to diplomacy and weaponization. After several decades of rumors, North Korea confirmed the successful testing of nuclear weapons in 2016, and now possesses an estimated arsenal of up to 40 intercontinental ballistic missiles (ICBMs) capable of deploying as far as the central United States. With China and Russia also ramping-up nuclear weapons production, and the due expiration of the New START initiative, delegations must deliberate on the future of nuclear weapons in the region. With delegates from key NATO nations alongside their allies--and their foes--DISEC will deliberate the terms for extending the New START Treaty denuclearization initiative set to expire in 2026, and create de-escalation strategies with particular emphasis on North Korea.
Chairs
Arman Krishan
Jannick van der Drift