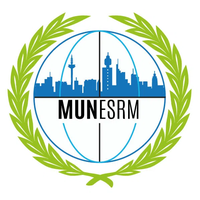 MUNESRM 2020
Model United Nations European School Rhein Main
Bad Vilbel

,

Germany

Theodor-Heuss-Straße 56

Mar 25

-

Mar 28, 2020

120 Delegates

€65.00 Fee
Delegate Applications

13 Sep 2019 - 14 Mar 2020

Chair Applications

13 Sep 2019 - 20 Jan 2020

Delegation Applications

13 Sep 2019 - 14 Mar 2020
---
Joining Together as One for a Viable Future


The European School Rhein Main is hosting its second MUN in Bad Vilbel, Dortelweil on the 25 March to the 28 of March 2020.

The MUNESRM conference is a chance to meet new people and communicate on another level by debating, finding solutions and simultaneously preparing for a superior future. Our conference will emphasize Sustainability, in order to stimulate a present-day, real life Model United Nations.

We encourage international, high school delegates with different cultural backgrounds and experiences to apply. Moreover, we hope that everybody will engage in discussing the people's rights and we are intrigued to hear about your various solutions. In order to join us, apply on MyMUN and be part of MUNESRM 2020. We are excited to be able to welcome you to our conference and hope the topics will lead to a fruitful debate!

For further information please visit our website: https://www.munesrm.com
---
Rating
4.3 out of 5
Top Rated MUN
This is a Top Rated series of conferences - it has consistently been rated with 4 or more stars!
Other Editions
---
Organizers
--- Security Council (SC) -Advanced
Topics
The resource conflict in the arctic region.
Securing safety and peace by combating terrorism.
Chairs
Amin Abida
Jolie Heiligenstein Economic and Social Council (ECOSOC) -Beginner
Topics
Ensuring that all people are able to express their religious beliefs in their home country.
Countering political corruption and promoting political transparency.
Chairs
Paul Homrighausen
marlene wisselinck United Nations Environment Programme (UNEP) -Beginner
Topics
Promoting accessible renewable energy and technology to combat global warming.
Prohibition of mining in the Democratic Republic of Congo to minimize the environmental impact.
Chairs
Shriya Rastogi
Rezwan Ahmed Sixth Committee (Legal) (GA6) -Intermediate
Topics
Preventing and countering violent extremism and radicalism globally.
Establishing an international legal framework for intelligence agencies.
Chairs
Lily Meckel