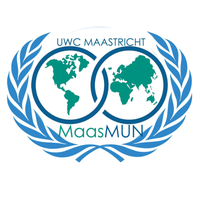 MAASMUN 2020
Maastricht Model United Nations
Maastricht

,

Netherlands

Discusworp 65

Jun 19

-

Jun 21, 2020

300 Delegates

€45.00 Fee
Delegate Applications

03 Nov 2019 - 22 Apr 2020

Chair Applications

03 Nov 2019 - 12 Mar 2020

Delegation Applications

03 Nov 2019 - 22 Apr 2020
---
---
Rating
4.75 out of 5
Top Rated MUN
This is a Top Rated series of conferences - it has consistently been rated with 4 or more stars!
Other Editions
---
Organizers
--- Security Council
Topics
Restoring peace and security to protect civilians from armed conflicts in Democratic Republic of Congo and neighbouring regions. Human Rights Council
Topics
What measures can be taken by countries to aid and relieve the ongoing humanitarian crisis in Yemen?
Exploitation of labor for fast fashion in less developed countries Disarmament and International Security Committee (DISEC)
Topics
Accessibility of Armed Drones
Controlling weapons among the youth Legal Committee
Topics
Defining terms and developing international measures regarding the captivity of political prisoners.
Policies to ensure that African states are able to achieve sustainable economic growth. Social, Cultural, and Humanitarian Committee (SOCHUM)
Topics
Preserving indigenous knowledge and culture
Access to education for people with physical disabilities Ethics Committee
Topics
To what extent should there be ethical limitations to the experimentation and engineering of the human genome? United Nations Office on Drugs and Crime
Topics
Combating illegitimate organized organ trafficking
Regulating costs and accessibility of medicinal drugs