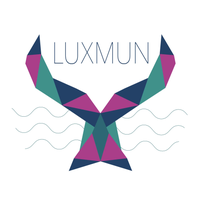 LUXMUN 2019
Luxembourg Model United Nations
luxembourg

,

Luxembourg

24 Boulevard Pierre Dupong

Jul 04

-

Jul 08, 2019

150 Delegates

€45.00 Fee
Delegate Applications

04 Jun 2019 - 30 Jun 2019

Chair Applications

13 Apr 2019 - 05 May 2019

Delegation Applications

13 May 2019 - 17 Jun 2019
---
"Overcoming inconceivable obstacles through cooperation"
Hello,

We are ecstatic to announce that we will be organising this year's LUXMUN, which will be held from the 4th to the 8th of July 2019! We are so excited to see you all there!
We feel our theme "Overcoming inconceivable obstacles through cooperation" encompasses how we envision this conference and hope all of you wishing to attend will feel this vision in attending our event. We hope you will enjoy yourselves and create new bonds with individuals from all over Europe. We are delighted to welcome you at the Athénée de Luxembourg and are thrilled to be able to meet you all!
Make sure to follow us on Instagram @lux_mun !

---
Rating
4.08 out of 5
Top Rated MUN
This is a Top Rated series of conferences - it has consistently been rated with 4 or more stars!
---
Organizers
--- Security Council (SC)
Topics
The Issue of International Intervention in Eastern Ukraine
Terrorism, state responsibility and the use of armed force - Non-state terrorist groups
Chairs
Marleen Onnekes Disarmament and International Security (DISEC)
Topics
Addressing the Issue of Global Terrorism and its Repercussions on Disarmament and International Security
Addressing the issue of the growing availability of small arms
Chairs
Dominik Ströbel
Barnabás Pintér Economic and Social Council (ECOSOC)
Topics
Sustainable Financing Of Socio-Economic Development In LDCs
Tackling the effects of consumption inequality
Chairs
Sophia Guarda
Jessica Savery World Health Organisation (WHO)
Topics
Health Effects of Genetically Modified Foods
Addressing access barriers to health services in low-income countries
Chairs
Mateja Bokan
Julia Twardzisz United Nations Human Rights Council (HRC)
Topics
Strengthen labour laws and prevention of exploitation of child and women labour
The right to adequate standard of living and non discrimination in housing - intersectionality between different groups of people (women, minorities, and the "poor")
Chairs
Lorena Ferrarini
Felix Ringe