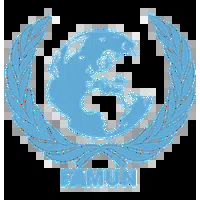 FAMUN 2019
Farel Academy Model United Nations
Amersfoort

,

Netherlands

None

Feb 07

-

Feb 10, 2019

300 Delegates

€80.00 Fee
Delegate Applications

01 Jun 2018 - 01 Jan 2019

Chair Applications

01 Jun 2018 - 06 Feb 2019

Delegation Applications

01 Jun 2018 - 08 Jan 2019
---
Where the World is Ours
The fourth edition of FAMUN will be held from the 7th till the 10th of February 2019 at the Farel Academy in Amersfoort, the Netherlands. The conference is for high school students aged betwen 12-18.
We will be hosting 300 delegates for 4 days. The theme of this year will be: " A stable combination of global liberty and safety".
---
Rating
4.39 out of 5
Top Rated MUN
This is a Top Rated series of conferences - it has consistently been rated with 4 or more stars!
Other Editions
---
Organizers
--- General Assembly 1
Topics
Developing rules to further regulate cyber terrorism
Disarming outer space and preventing an arms race in space
Chairs
Naila Rahman
Selin Gürses General Assembly 2
Topics
Decreasing the large numbers of child labour in the clothing industry and the number of fatal accidents in factories
Setting a standard on the LGBTQ+ community adopting children from LEDC's
Chairs
Annemarie Sänger
Roza Kavak General Assembly 3
Topics
Ensuring the equal rights of children and youth delinquents under international law
Taking measures to improve the question of religious freedom
Chairs
Jessica Bonnema
Giras Bowo General Assembly 4
Topics
Stabilizing the position of autonomous communities
Maintaining a healthy maritime biodiversity in polluted waters
Chairs
Renée Ensink
Tessa Hofman General Assembly 6
Topics
Stabilizing the Legal Standards for International Intervention with respect to the Responsibility
Criminal accountability of United Nations peacekeepers and experts on mission
Chairs
Evi van der Laan
Jelle Stap Reformed Security Council
Topics
Regulating the situation regarding Israel and Palestine
Protecting civilians in armed conflicts
Chairs
Priyanka Mahat
Layla Charki UN-women
Topics
Preventing the assault and harassment of women on a global scale
Setting a standard on women's rights in the Middle East
Chairs
Katarzyna Lelonek
Natalie Kamau