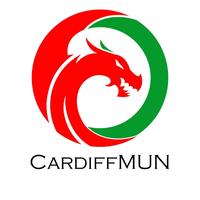 CardiffMUN 2020
Cardiff Model United Nations International Conference
Cardiff

,

United Kingdom

Column Drive

Jan 31

-

Feb 02, 2020

120 Delegates

£22.00 Fee
Delegate Applications

01 Jul 2019 - 19 Jan 2020

Delegation Applications

09 Oct 2019 - 20 Dec 2019
---
CardiffMUN2020
Please come to CardiffMUN 2020. We look forward to seeing you join us from the 31st of January to February the 2nd.
---
Rating
4.52 out of 5
Top Rated MUN
This is a Top Rated series of conferences - it has consistently been rated with 4 or more stars!
---
Organizers
--- United Nations Security Council
Topics
The Venezuelan Crisis
Climate Change as a Cause of Humanitarian Disasters United Nations Human Rights Committee
Topics
China's Secularist Issue
Dealing with LGBTQ Rights Globally Gulf Cooperation Council
Topics
Migration Reform in GGC
Western Encroachment in the Middle East Crisis
Topics
Wales: The Dragon Rising This Crisis explores the future relationship between Wales and Westminster in post-Brexit Britain.