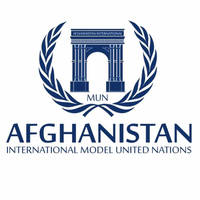 AFGIMUN 2017
Afghanistan International Model United Nations
Kabul

,

Afghanistan

None

May 18

-

May 20, 2017

300 Delegates
---
To get an insight of our vision and mission have a glance at our message
---
Organizers
--- United Nations General Assembly
Topics
Protection of civilians in the context of peacekeeping operations
International Migration Crisis and its drawbacks.
The Taliban War in Afghanistan as a threat to regional and international peace and security United Nations Women
Topics
The Impact of Gender and Sexual-Based Violence on Economic, Social, and Political Development.
Women Economic empowerment in changing world of work. United Nations Environment Program
Topics
Climate Change: discussing measures to solve global warming and depletion of the Ozone layer and it's socioeconomic impact.
The role of water crisis in geopolitics/ Special topic (Afghanistan-India-Iran-Pakistan). United Nations Security Council
Topics
Reformation of Security Council and current powers of 5 nations with veto rights.
Future Security Situation in the Middle East United Nations Economic and Social Council
Topics
The role of science, technology and innovation in implementing the sustainable development goals.
Women role in Economy of Under Developed and Developing Countries The Afghan Parliament
Topics
Constitution of Afghanistan: Special case (Relations between Executive and Legislative Branch).
Practical Session of Legislative Process.
Discussion of EVAW law